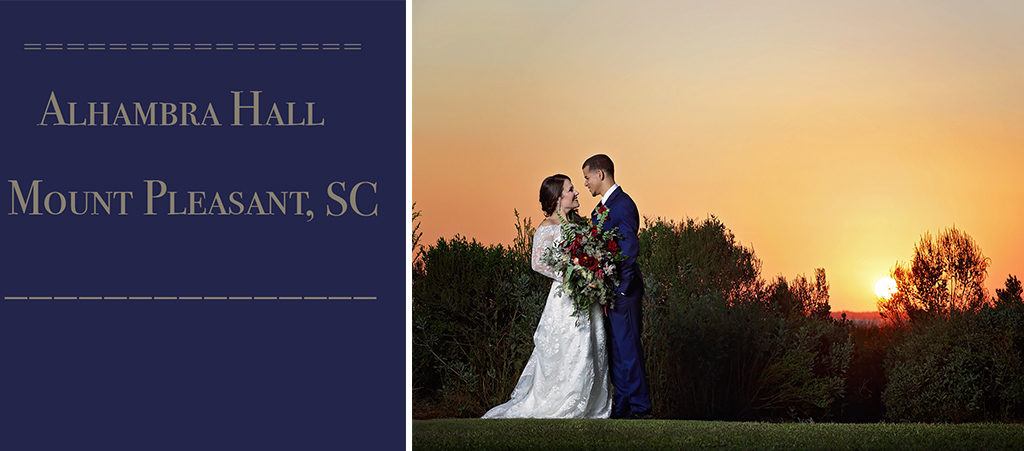 Nestled in the Old Village in Mount Pleasant, SC you will find one of the most charming and oldest southern wedding venue called Alhambra Hall. This southern charm wedding venue that was the former Ferry Terminal overlooking the Charleston Harbor, offers some of the most beautiful weddings with amazing sunsets over the water, by complementing the Charleston city outline in the background.
This rustic chic wedding venue is very large by offering on the first floor a groom suite and a very spacious bridal suite. Unique in kind are windows where a bride and her parents and bridesmaids can watch the beautiful ceremony by the gorgeous one of a kind 300 years old oak tree. Upstairs in the reception area, you are amazed at the vaulted wood ceilings, fireplaces and unique chandeliers with about 3,280 square feet of reception hall that can include a maximum of 350 of your closet family and friends. The best part for all attending the wedding is the wraparound balcony featuring a gorgeous view of everything this Lowcountry has to offer, for that truly breathtaking southern wedding soiree. Maybe this is why Alhambra Hall is most brides top choice for a wedding venue, in Mount Pleasant, SC and why it is always booked so far in advance.
Wedding At Alhambra Hall
View more weddings from this venue. Alhambra Hall
ABOUT THE PHOTOGRAPHERS & CINEMATIC VIDEOGRAPHERS
King Street Photo Weddings is a team of wedding photographers and cinematic videographers serving SC and beyond. We specialize in fine art, unobtrusive, timeless, perfectly captured both wedding images and videography. Are you planning a wedding? Click here to view our photography wedding portfolio, and here for our cinematic wedding portfolio or contact us here for availability and investment. Happy wedding planning!
To see these beautiful venues and our photography & videography click on the header post above, then you will see below from our previous blog post some of the amazing weddings on the bottom of the post that we have had the honor to capture at Alhambra Hall Mount Pleasant, SC. Just click on the related links and enjoy;